Events
January 19 - 30, 2015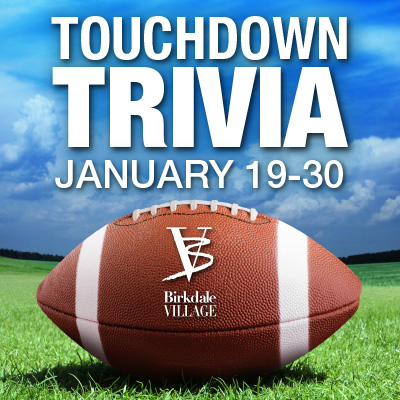 Super Bowl Sunday is near and Birkdale Village wants you to be ready!
Enter to win a $50 gift card from The Kilted Buffalo by answering our Touchdown Trivia on Facebook. Trivia questions will be posted daily (Monday - Friday only) from January 19 - 30.
Everyone that answers the trivia in the comments section of the post correctly is automatically entered for the drawing! You get one entry per trivia question answered correctly! The more trivia questions you get right, the more chances of winning you have!
The winner will be selected on Sunday, February 1, 2015! The winner may stop by the management office that same day to pick up their prize and enjoy at The Kilted Buffalo during the Superbowl!
"Like" our Facebook Page today and brush up on your Super Bowl trivia for your chance to win!
January 30 - February 10

Shop early for Valentine's Day and receive a FREE gift*!
*Bring receipts totaling $150 or more from any Birkdale Village retailer to Kilwin's Chocolates from January 30 - February 10.
Then join us on Valentine's Day for dinner at any of our fantastic restaurants and enjoy live music from 5pm - 8pm at the center court area.
Actual chocolates differ from those pictured.