Photos with Santa
Saturdays & Sundays from Noon to 6pm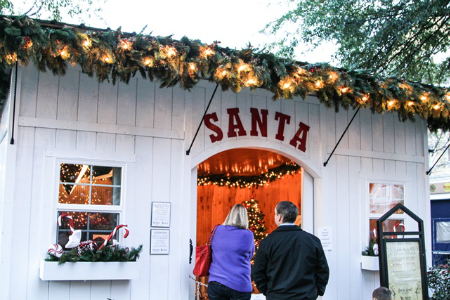 Photos with Santa
Visit Santa at his home in front of the tree and cherish the moment with a photograph!

November schedule:
November 29th from Noon - 6pm
November 30th from Noon - 6pm
December schedule:
December 6th from Noon – 5pm
December 7th from Noon – 6pm
December 13th from 3pm – 6pm
December 14th from Noon – 6pm
December 20th from Noon – 6pm
December 21st from Noon – 6pm
December 22nd from 11am – 3pm
December 23rd from 11am – 3pm
December 24th from 11am – 3pm
Special hours highlighted for your reference.
It pays to shop at Birkdale Village on Black Friday!
Friday, November 28th from 11am - 7pm

Take advantage of ALL DAY holiday sales without the chaos and find the perfect gift at the right price at Birkdale Village on Black Friday! Visit Birkdale Village on Black Friday for a chance to win a $50 gift card from a participating retailer every hour from 11am – 7pm! Pick up an entry form at the DJ tent located across the holiday tree and enter to win! Winners will be chosen at random every hour on the hour! Must be present to win!
Below is a list of the offers our retailers have put together especially for you! Check it out!
TCBY
Purchase a $25 TCBY gift card Black Friday through December 31st and receive a $5.00 gift card. See store for complete details.
Sports Clips
Buy one haircut get the second free (Like, Father and Son deal).
The Joint
The Joint will be offering 20 adjustments for $200! Valid from: 11-2pm
Bath and Body Works
Bath and Body works is offering the VIP Bag for only $20.00 with a $40.00 purchase!
Starbucks
Starbucks' Verismo is on sale for $59 through Sunday, November 30th! The Verismo is a single-cup brewer that not only makes brewed coffee, but espresso and lattes...all in less than 60 seconds. Make your favorite drink at home, just like you find in your Birkdale Starbucks store.
Uniquities
Stop by Uniquities to check out the amazing selection of premium denim, sweaters, Barbour jackets, and more! Earn a $25 gift certificate with purchases of $150 or more at Uniquities today!
Pure Barre
Save on Black Friday at the Barre! The more you buy the more you save! Buy 1 item, save 10%, buy 2 items save 15%, buy 3 items save 20%, buy 4 or more items save 25% and all accessories are10% off! The ENTIRE Sale Rack is 40% off!
Kilwin's Chocolates
Need a sweet treat pick me up to get you through the day? Visit Kilwin's and save chocolate dipped Oreos on special, fifty cents off!
Gap
50% off the entire store. All day.
Brixx
Make sure to HIT THE BRIXX today! Our pals at Brixx Wood Fired Pizza will give you a certificate worth $25 in FREE FOOD and a card for a FREE PIZZA when you buy $100 in gift cards through Monday, Dec. 1!
Bevello
Get 20% off your $150 purchase, 25% off your $200 purchase or 30% off your $250 purchase . But that's not all the Tart Cashmere Sweater Originally $124 is on Sale for only $98) - available in stores only. While supplies last. Quantities limited.
Apricot Lane
Stop by Apricot Lane today and enjoy 40% off everything in the store from 8am - 10am, 30% off everything in the store from 10am - noon and 25% off for the rest of the day. Shop fashion forward women's apparel and gifts at affordable prices.
Chico's
SAVE 35% off the entire boutique
Life is Good
For every $100 spent receive your choice of $20 gift card, Ladies cap, Men's Cap or plush Rocket Dog Toy.
Isabella's Fine Olive Oils and Vinegars
Get a Free olive oil or balsamic vinegar bottle (60 ml) from 10am to 2pm with every $25 of purchase. Only 2 per customer, per day. Cannot be combined with any other special offer. They also have special pricing on some of their bottles throughout the day.
Claire's
Buy one get one 50% off the Entire store. Claire's also offers free ear piercing with the purchase of a starter kit.
Vanilla Brazil
The whole store is on sale for today! Including new arrivals!! Discounts up to 60%!
and just a little reminder every day is a sip and shop day at Vanilla Brazil, Wine, champagne and water are always available.
Pick up your Holiday Tree at Birkdale Village!
Available everyday!!!
Christmas Tree Lot
Pick up your fresh cut native Fraser fir Christmas tree from Blowing Rock, NC at Birkdale Village starting Wednesday, November 26th until December 24th (while supplies last):
Monday thru Thursday 11am to 8pm
Friday thru Sunday 9am to 9pm
Prices range from $20 - $120.
They will also have fresh wreaths on site every day!
Questions? Please call 704-400-5195 or email: unityfarms@bellsouth.net