Regal Summer Movie Express at Birkdale Village!
Tuesdays and Wednesdays at 10am starting June 17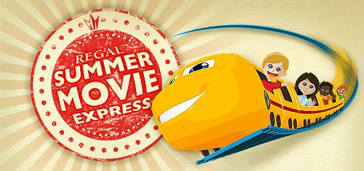 The 2014 Summer Movie Express runs for 9 weeks with select titles playing at 10am on Tuesdays and Wednesdays throughout the summer. Regal Birkdale Stadium 16 Summer Movie Express will begin on June 17. Admission to these films during the Summer Movie Express is only $1 and a portion of the proceeds goes to the Will Rogers Institute. Movie Listing is below.
Week and Title
1 Hotel Transylvania
1 The Smurfs 2
2 Cloudy with a Chance of Meatballs 2
2 The Pirates: Band of Misfits
3 Arthur Christmas
3 Despicable Me 2
4 The Lego Movie
4 Free Birds
5 Adventures of TinTin
5 Rise of the Guardians
6 Kung Fu Panda 2
6 Madagascar 3
7 The Croods
7 Epic
8 Turbo
8 Walking with Dinosaurs
9 Mr. Peabody & Sherman
9 Rio 2
Mingling on the Greens Concert Series
Every Friday & Saturday 7-9pm and Sundays 4-6pm
Join us every weekend from June 6 - September 1 for the Mingling on the Greens Concert Series where we will feature live music! Friday & Saturday from 7 – 9pm and Sunday 4 – 6pm!
July 18 Angela Easterling
July 19 The Drive South Band
July 20 Anthony Cirillo
July 25 The Invaders
July 26 Dana & Susan
July 27 The Rowan Big Band All Star
August 1 Michael Wolf and D.B.A.
August 2 Next Level Band
August 3 Ben Torres
August 8 The John T. Woodall Band
August 9 The Early Arrivals
August 10 Robert E. Trice Jr.
August 15 Dukes & Smith
August 16 Exit 54
August 17 Highway 12 Band
August 22 Alan Barrington
August 23 TTW Band
August 24 Calvin Edwards Trio
August 29 Tim Cook Band
August 30 Soundbarrier
August 31 The Drive South Band
September 1 Jon Benson Band
Cool Back To School Contest & Voting!
July 28th through August 15th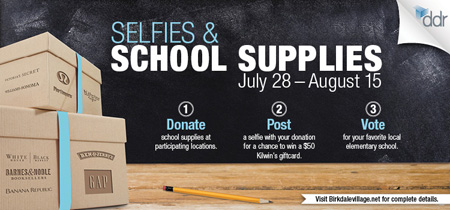 Selfies, Schools and Supplies, Oh My!
This back-to-school season, Birkdale Village is making sure all elementary school kids have a #coolbts. You can help raise money for your school or win a prize for yourself by participating in these fun events!
Selfies & Supplies: Donate supplies (pencils, crayons, washable markers, colored pencils, erasers, loose leaf paper, construction paper) at the one of the participating locations below from July 28 - August 15th. Post a selfie of you at the donation site with your donation to Birkdale Village's Facebook and you'll be entered to win a $50 Kilwin's gift card! For more info, check out the Rules & Regulations. Participating Donation Sites Include:
Birkdale Village Ben & Jerry's
Vote for Your School: Visit the Birkdale Village Facebook voting page to vote for your favorite elementary school, and Birkdale Village will donate $1 for each vote. Donations will be made directly to each elementary school by Friday, August 29th, just in time to start off the school year! Maximum of $100 donation per school. For more info, check out the Rules & Regulations.